EU-AITF Annual Report 2016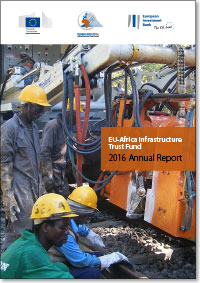 The 2016 Annual Report provides details on the eight grant operations approved during the last year and looks back at the Fund's track record over the past decade.
The EU-AITF Infrastructure Trust Fund, which celebrates its tenth anniversary in 2017, has supported 111 grant operations to date, totalling EUR 698.4 million and supporting 83 different projects. These projects make a difference to people's lives since they contribute to sub-Saharan Africa's economic and social development in the Fund's four sectors of operation: water, energy, transport and information and communication technology. More than half of the projects have already leveraged concrete investments worth EUR 7.9 billion, which is 18.5 times the volume of grant support.
Language