6th College to College Meeting of the African Union Commission and the European Commission - Opening speech by President Barroso
The 2013 edition of the Africa–EU College-to-College meeting took place in Addis Ababa on April 25-26, 2013 between EU and AUC Commissioners in the Presence of Dr. Nkosazana Dlamini Zuma, Chairperson of the African Union Commission and European Commission President José Manuel Barroso.  This meeting was a key opportunity to review the results of the Africa–EU cooperation since the last C2C meeting in June 2011 and prepared the kick-start for the 4th Africa EU Summit (April 2014 in Brussels).
Quote from opening speech given by Mr José Manuel Durão Barroso, President of the European Commission, at the 6th Annual College to College Meetings of the AUC and the EC held in Addis Abeba, on 25th and 26th April 2013 :
"We have also been supporting continent wide integration and infrastructure development. It is estimated that the lack of adequate infrastructure can reduce productivity by as much as 40%. This is why Africa gives high importance to its programme for Infrastructure Development. This is why a cornerstone of our cooperation is the EU-Africa Infrastructure trust fund, which has a total funding of 746 Million euros, of which 638 million come from the budget managed by the European Commission."
Read Joint Declaration by the African Union Commission - European Commission
ITF Side event: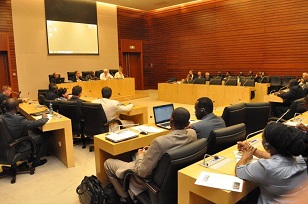 On this occassion a Side Event was organised by the European Investment Bank, in collaboration with the Secretariat of the EU-Africa Infrastructure Trust Fund (ITF) and the African UnionCommission on "Europe's support to infrastructure financing in Africa". This event focussed on the EU response to the Sustainable Energy for All initiative as well as the EU-Africa Infrastructure Trust Fund and the showcasing of two projects receiving ITF support.
Presentations: